Hickman Chevrolet Buick GMC Gander
Establishment and car dealer at 201 Airport Boulevard, Gander, NL A1V 1L7, Canada. Here you will find detailed information about Hickman Chevrolet Buick GMC Gander: address, phone, fax, opening hours, customer reviews, photos, directions and more.
Opening hours
| | |
| --- | --- |
| Monday | 08:00am — 06:00pm |
| Tuesday | 08:00am — 06:00pm |
| Wednesday | 08:00am — 06:00pm |
| Thursday | 08:00am — 06:00pm |
| Friday | 08:00am — 06:00pm |
| Saturday | 10:00am — 03:00pm |
Rating
1 /5
Based on 1 reviews
Photos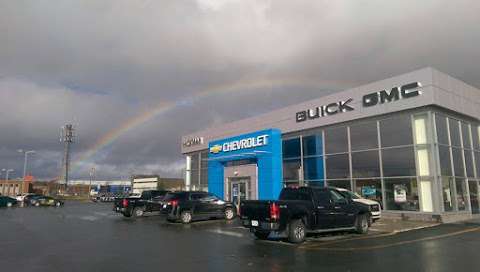 Reviews of Hickman Chevrolet Buick GMC Gander
Caitlin Starkes Added 2018-05-25

★ ☆ ☆ ☆ ☆

The only one we have ever gotten any satisfaction out of at Hickman motors in Gander is Maurice Goodyear. Props to him for always addressing our issues and always serving us with a smile, not to mention making buying our vehicle a breeze. As for the service department we will be taking a break from going there and we'll get our service and maintenance done elsewear. In the last 9 months of having our vehicle we have had one good service with decent timing. Other than that we have had nothing but issues. We have already pulled a car from there and brought it to a local garage because hickmen motors can not find out what's wrong with it. Also we have had to bring another truck (2 years old) there for the same problem to many times in the last 2-3 months.. hopefully this time the issue with that truck is resolved and we can actually drive across the island without breaking down.
About hickmanmotorsgander.ca
Hickman Chevrolet Buick GMC Gander | A Gambo and Glovertown GMC, Chevrolet & Buick Dealership Alternative
Hickman Chevrolet Buick GMC Gander near Lewisporte has the trusted new and used vehicles, service, and more for you. Visit our Gander store today!
Hickman Chevrolet Buick GMC Gander, Chevrolet Gander, Buick Gander, GMC Gander, Gander Chevrolet, Gander Buick, Gander GMC, Chevrolet Gander NL, Buick Gander NL, GMC Gander NL, Gander NL Chevrolet, Gander NL Buick, Gander NL GMC, Gambo Chevrolet, Gambo Buick, Gambo GMC, Glovertown Chevrolet, Glovertown Buick, Glovertown GMC, Lewisporte Chevrolet, Lewisporte Buick, Lewisporte GMC